Sol Camps International offers an all-inclusive program at all of our destinations.*
Campers are provided with: medical insurance + 2-way airport transfer + course materials + accommodation + all meals + tickets to all organized trips and excursions + laundry cards
TORONTO
The programs at Sol Camps Toronto are held at the University of Toronto's St. Michael's Campus. Located in the heart of the city, this beautiful location is home to our campers for 8 fantastic weeks every summer.
Campers are provided with: medical insurance + 2-way airport transfer + course materials + accommodation + all meals + tickets to all organized trips and excursions + laundry cards.
NEW YORK CITY
At Sol Camps New York City, our program runs at Fordham University's Rose Hill campus located in the North Bronx. Campers enjoy 85 acres of beautiful campus grounds and amazing facilities over 5 weeks each summer.
Campers are provided with: medical insurance + 2-way airport transfer + course materials + accommodation + all meals + tickets to all organized trips and excursions + laundry cards.
LESSONS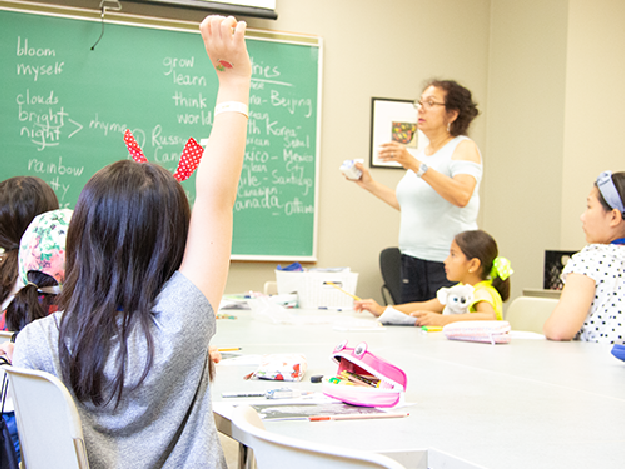 20 lessons per week
Course material included
Graduation Certificate awarded
Levels A1-C2
The academic program at Sol Camps International is engaging, fun, and effective. Utilizing a specially designed curriculum and facilitated by our qualified teachers, our program provide campers with challenging lessons and team building and leadership projects.
Our Children's Adventure Program (CAP) has a camper to staff ratio of 10:1 and our Teenage Adventure Program (TAP) has a camper to staff ratio of 15:1.
We use the Common European Framework of References for Languages (CEFR) to guide our level system. Campers graduate and receive a certificate that indicates their final level.
FOOD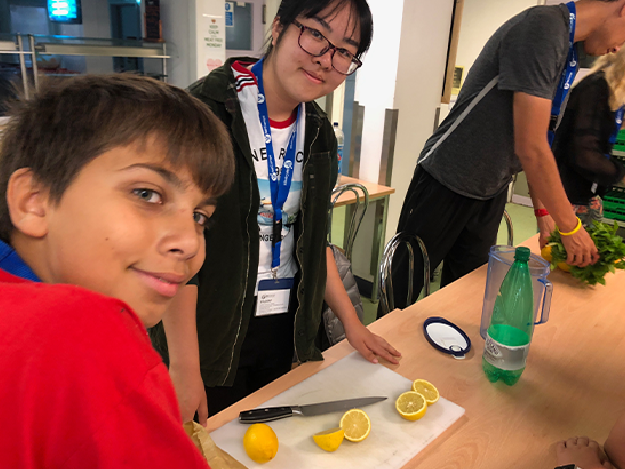 3 meals per day
Buffet meals on campus
Packed meals/food vouchers for trips and excursions
Can accommodate all food restriction
Our food is amazing!
Campers begin each day with a variety of breakfast options including eggs, an assortment of meats and cheeses, potatoes, waffles, cereals, juices, fresh fruit, yogurt, bread and tea.
For lunch and dinner on campus, campers enjoy a range of buffet items that change from day to day. Taking into consideration the many cultures and nationalities at the camp, we ensure campers have healthy and delicious options to choose from.
Menu items include: rice, meat, chicken, pasta, salad, fresh fruit, soups etc.
In the case of off-campus travel for trips and activities, campers are provided with packed meals and/or food vouchers.
Finally, as long as we have advance notice, it is important to note that our food services teams can always provide vegetarian, Kosher, Halal, and gluten free dishes and cater to those with any other dietary concerns.
Accommodation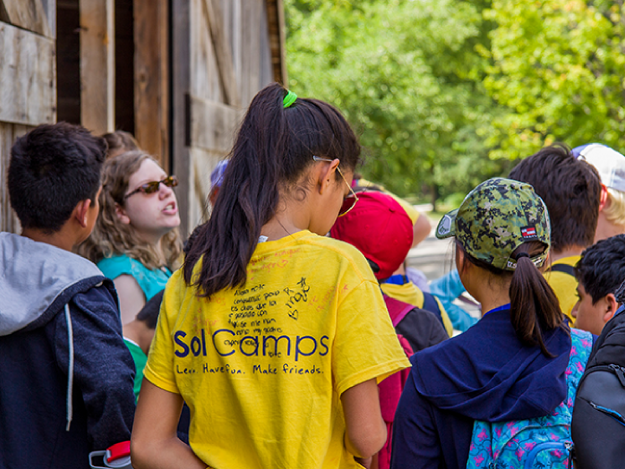 Secure Key Card Entry
24/7 supervision
Camper lounges with TV/Games/Wifi
Residences located on campus
We believe that no camp experience is complete without a fun and exciting campus life, and residence living is essential to fostering this sense of community. Our dedicated housing team works to ensure that campers' stay is comfortable, safe, and enjoyable from the day they arrive until the end of their program.
At Sol Camps Toronto, CAP and TAP campers are housed in separate residences where single, double, and triple rooms are available. All washrooms are shared and campers are separated on each floor and building by gender.
At Sol Camps New York City, TAP campers are housed in a residence with double rooms. All washrooms are private/ensuite and campers are separated on each floor and building by gender.
The Sol Camps team will do their best to accommodate room-pairing requests when received. However, to ensure the full Sol Camps experience, we assign campers to rooms with a strong nationality mix in mind.
Activities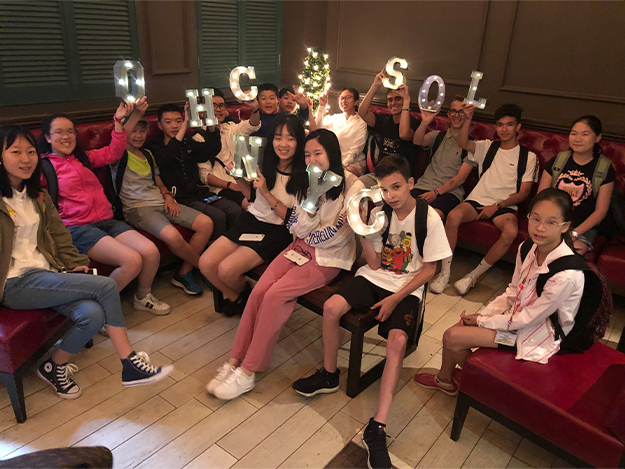 Weekend Full-Day excursions
Weekday afternoon and evening activities
24/7 Staff supervision
Exciting and unique activities
Activities play a very important role in the Sol Camps programs. This is where campers are able to apply what they have learned in lessons to their social programs outside the class. Campers are encouraged by participating in all the activities and exercises offered. active participation to develop new skills and build self-confidence in more than just their language ability.
At Sol Camps, campers are assured a safe, positive, and welcoming environment to enjoy campus life and activities. Our team delivers exciting and engaging programs for all campers, taking into account the many different interests and personalities of our campers.
With organized sports and leisure events, boat cruise parties, fun and memorable flash mobs, and weekly "teen choice" clubs, campers are sure to have fun and build strong friendships!
Social responsibility and community outreach projects are also an important part of the Sol Camps program as they provide a good opportunity for campers to learn more about new cultures, work together as a team, engage with city locals, and give back to the community they're part of while at Sol Camps.
Popular activities also include full day trips, Model United Nations, Flash Mobs, Museums, Sports Games, Art Galleries and more!
Toronto – Niagara Falls, Wonderland, Zip-lining, Rock Climbing, Model United Nations, Community Service etc.
NYC – Statute of Liberty, Central Park, Times Square, New York Yankees, 9/11 memorials, Model United Nations, Flash Mobs, etc
A TYPICAL DAY AT CAMP
Please note that weekend are full day excursions.
7:30 AM - 8:30 AM
Breakfast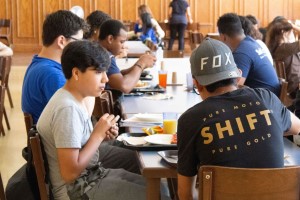 You will be woken up each morning for breakfast which is served from 7:30 AM to 8:30 AM. We have many healthy options from hot breakfast items, to fruit, yogourt, granola and cereal. Breakfast is guaranteed to give you enough energy to start the day properly.
8:45 AM - 9:00 AM
Morning Assembly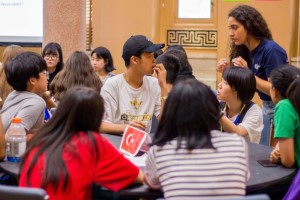 Every morning Students will gather at 8:45 AM for morning assembly. There they will meet their classmates and teachers. Daily announcements will be given out here, where you will be informed of the days activities and plans.
9:00 AM - 12:30 PM
Classes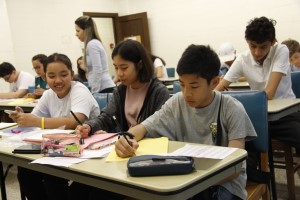 Our English program is composed of 20 English classes per week. Our teachers provide engaging and entertaining lessons, using our very own Sol Camps textbooks. The Lessons are academic, with a focus on communication and encourage students to use what they learn outside the classroom with their new friends.
12:30 PM - 1:30 PM
Lunch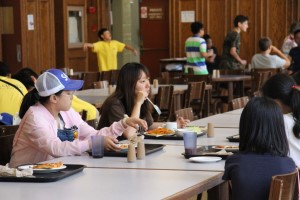 Lunch starts when your Activity Coordinator comes to pick you up from class at 12:30pm. They will tell you the plan and then take you to the cafeteria where you will have a fresh, healthy and tasty meal.
1:30 PM - 6:00 PM
Afternoon Activities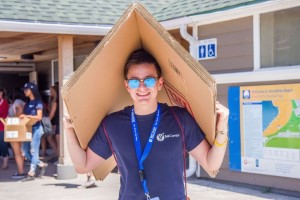 Afternoon activities are where the fun is at. This is your chance to explore the city you call home while here at Sol Camps. You will get a chance to visit some of the top tourist attractions and events in the city. You will also get a chance to participate in some very fun team building activities.
6:00 PM - 7:00 PM
Dinner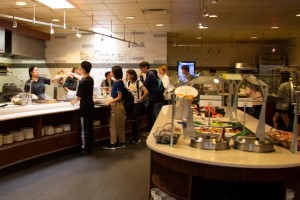 Dinners at Sol Camps are fun, healthy and Delicious. The menu is designed with international appetites in mind. The food ranges from favourites like Pizza and burgers, to pastas, stir fries and other dishes. We can accommodate any dietary restriction as well.
7:00 PM - 9:30 PM
Evening Activities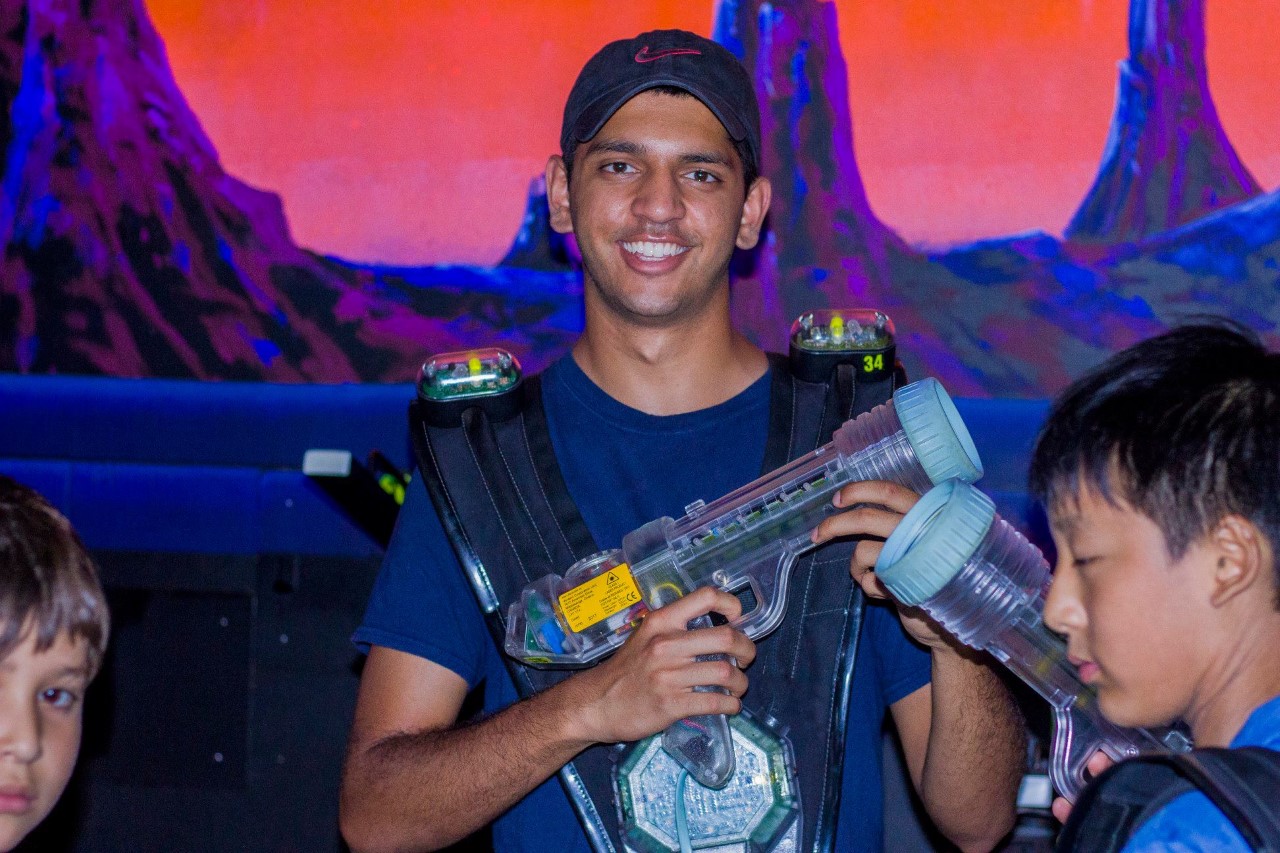 Our evening program is designed to be engaging, fun and entertaining with a huge focus on team building. The activities range from on campus competitions to exploring Toronto at night. Evening activities happen right after dinner.
9:30 PM - 10:30 PM
Residence and Lights Out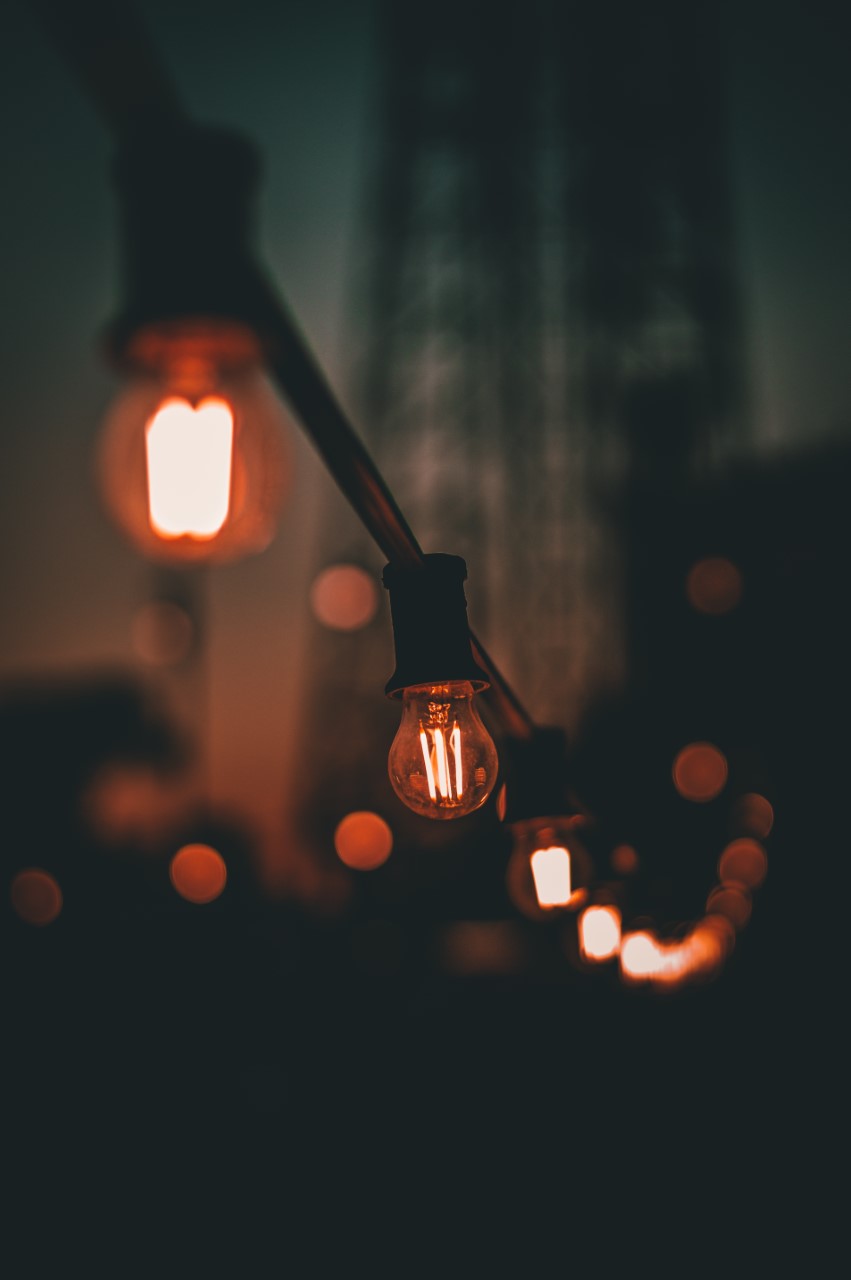 At this time you will check in with our residence staff who will be there with you to chill in residence. Here you will have free time to relax in the common rooms, do laundry, and hang out with your new friends. Lights out at 11:00 PM.
* Be sure to check your desired SOL Camps destination in order to see a list of offered activities and trips.